0 Flares
Made with Flare

More Info

'>
0 Flares
×
Contributed by Kate Clark. Kate is an elementary school principal on the North Shore of Massachusetts, and has used mindfulness practice in a variety of classroom situations over the course of her 30-year career as an educator. Kate will be a speaker at INSPIRE 2014, and her session is titled Theory into Practice: Preventative Strategies for Students with Anxiety.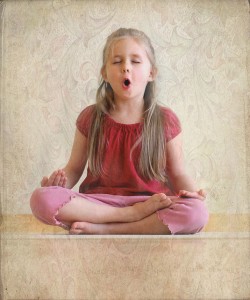 Fifteen quiet minutes…time for our fourth grade students to breathe, to hold off on all thoughts of the future or the past. Sitting quietly, they are encouraged to just concentrate on "the now." As they truly pay attention — to their breath, their surroundings, their place in the world — right here and now — the students listen to a guided meditation or just the sound of their breathing. For the cost of just a few minutes of class time a week, our fourth grade students find some mental space to contemplate their thoughts with a sense of detachment, without judgment. The world we live in constantly pulls at their attention: electronics, sports, music, friends, schoolwork, and so on. During mindfulness practice, they can take time to deliberate before reacting, breathe before acting. Reflecting on a recent mindfulness session in school, one student describes feeling "like more sunshine just came in."
The skeptics out there say: "Ok, the kids feel great for a few minutes and have some quiet in their otherwise busy, noisy days, but what is mindfulness? Why is it different than just deep breathing or relaxing? Is it worth taking time away from academics?"And the big question we all want to know: "Can it really help students academically?"
Let's start at the beginning, with a common understanding of what we mean when we talk about mindfulness practice in school. Although rooted in ancient Buddhist practice, modern mindfulness practice is secular, with no religious overtones. Mindfulness does entail breathing deeply, and can often lead to feelings of relaxation. However, the key ingredient—the one that actually makes a difference for people—is the practice of allowing thoughts, worries, ideas, plans, etc. to float by unremarked upon. Mindfulness meditation is not a time to ruminate, but rather a time to exist in a space a little bit distant from all the clutter in our lives. It is a time to observe objectively, without judgment. As one becomes better at mindfulness meditation, (through consistent practice), it is easier and easier to call upon this detachment in times of stress. It doesn't take long to learn or to implement, just a few minutes a day can be beneficial. Research with adults has already connected mindfulness practice to positive outcomes in psychology and medicine, and has led to broad changes in practice in both those fields (Meiklejohn et. al., 2012).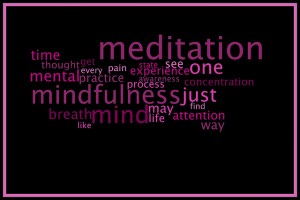 To be honest, the jury is still out on whether or not mindfulness practice is effective for children in schools. Direct, empirical connections to student achievement have not yet been established, but researchers are working on it and the results so far have been promising. While not ready to say definitively that mindfulness practice with children leads to stronger school skills, researchers have been able to ascertain that practicing mindfulness in schools is certainly feasible and does no harm to the students involved (Biegel & Brown, 2010). That, and our intuitive sense that teaching students to practice mindfulness meditation is valuable, is enough for many of us in the field of education to spend a few minutes of classroom time to help students develop one more tool for their arsenal, one more way to combat the multitude of distractions and stressors they encounter each day. Grade Classroom grade students to breathe, to hold off on all grade students find some mental space
The research that has been done so far does seem encouraging, if not definitive as yet. This is an emerging field, but various studies have established a connection between mindfulness practice and improvements for students in areas such as cognitive control, attention, self control, reaction to stress, optimism, empathy, ability to shift sets, well being, manage emotions and social competence. Why not use something in the classroom that provides the students with a proactive strategy; something they can do anywhere that has the possibility to help them manage the demands of their lives? Mindfulness practice is a win-win: it takes very little time and may actually promote habits of mind and feelings of well being in students.
I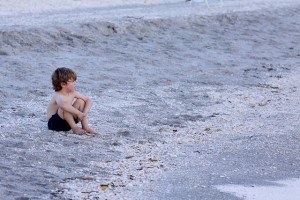 n my own teaching, I have found guided visualization and mindfulness meditation was certainly one of the most popular exercises I led for my students. Many teachers have told me, and I have experienced this myself, that students clamor for these few minutes to breathe and detach before diving into hard work. Imagine that feeling: "like more sunshine just came in!" If that is how kids feel after a mindfulness meditation session, this is reason enough for me to support my staff as they implement this practice. The research will just have to catch up to the kids!
Beigel, G. M. & Brown, K.W. (2010). Assessing the efficacy of an adapted in-class Mindfulness-based training program for school-aged children: A pilot study. White Paper. www.tinyurl.com/6ftayyx.
Burke, C. (2009). Mindfulness-Based Approaches with Children and Adolescents:A Preliminary Review of Current Research in an Emergent Field. Journal of Child and Family Studies. Published online: June 27, 2009.
Kuyken, W., Weare, K., Ukoumunne, O., Vicary, R., Motton, N., Burnett, R., Cullen, C., Hennelly, S. & Huppert, F. (2013). Effectiveness of the Mindfulness in Schools Programme: non-randomised controlled feasibility study. The British Journal of Psychiatry, vol. 203. 126-131.
Meiklejohn, J., Phillips, C., Freedman, M.L., Griffin, M. L., Biegel, G., Roach, A., Frank, J., Burke, C., Pinger, L. et al. (2012). Integrating Mindfulness Training into K-12 Education: Fostering the Resilience of Teachers and Students. Mindfulness. Published online: March 14, 2012.
Weare, K. (2013). Developing mindfulness with children and young people: a review of the evidence and policy context. Journal of Children's Services. March, 2013.
Images Courtesy