When:
December 9, 2014 @ 4:00 pm – 5:00 pm
2014-12-09T16:00:00-05:00
2014-12-09T17:00:00-05:00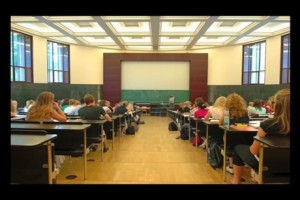 The children of today need the techniques of today to learn, and this does not mean a blind faith in technology such as video games or social media clumsily shoehorned into a curriculum like a stepsister's foot vainly squeezed into Cinderella's slipper. The Multiplayer Classroom is not a class that uses video games to teach. Instead it uses the craft of game design to create an entire class as a real-time multiplayer game. Elements include:
grading by accretion (XP and leveling up);
learning by failing (allowing students to redo assignments);
intrinsic rewards (such as dividing students into guilds and rewarding an entire guild for the achievement of one member);
peer teaching and more.
Recent studies bear out initial anecdotal evidence from hundreds of teachers: the average grade for a class has risen from a C to a B. Students are creating their own assignments. Class attendance is almost perfect. The Multiplayer Classroom uses the techniques today's world communicates with us, so that we can teach our children in a language they understand.
Participants will:
Receive an introduction to the history and philosophy behind multiplayer classrooms.
Identify ways to apply elements of games to their own classes.
Outline methods for turning parents, other teachers and administrators into enthusiastic supporters of the multiplayer classroom.
About the Presenter
Lee Sheldon is a game designer, book author and television producer and scriptwriter. He is the author of the mystery novel Impossible Bliss, the non-fiction books The Multiplayer Classroom: Designing Coursework as a Game and Character Development and Storytelling for Games. He was lead writer on the upcoming Harmonix game Fantasia: Music Evolved, lead writer on Zynga's Facebook game, Adventure World; lead writer on Star Trek: Infinite Space from Gameforge; as well as writer/designer of the Agatha Christie video game series published by The Adventure Company ("And Then There Were None", "Murder on the Orient Express" and "Evil under the Sun").
His television credits as a scriptwriter include Charlie's Angels, Quincy, M.E., Cagney & Lacey, The Edge of Night (Head Writer), Snoops, Another World, and Star Trek: The Next Generation. He was nominated for two Edgar Awards from the Mystery Writers of America and a Writers Guild of America award.
Sheldon has a bachelor of fine arts degree in stage directing from Boston University, and an MFA in film direction from California Institute of the Arts. During his time as a student at CalArts, he was mentored under Alexander Mackendrick. In addition, he had two pairs of mentors while he was a writer and producer in television — Ron Austin and Jim Buchanan, as well as William Link and Richard Levinson.
He is currently an associate professor in the Communication and Media Department and Co-Director of the Games and Simulation Arts and Sciences program at Rensselaer Polytechnic Institute in Troy, New York.